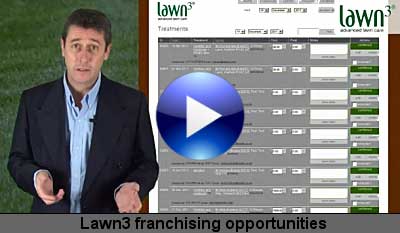 Franchise Opportunities
Lawn3 Franchise Opportunity
Lawn3, the one stop shop for Lawn treatment and advice, is now expanding UK-wide and you can share in our success!
Launched in 2003, Lawn3 has grown rapidly and operates in 32 territories throughout the UK. 2010 was our most successful year ever, and 2011 has seen that trend continuing with sales up 32% in the first four months alone!
Our axiom is simple: Give clients what they want, when they want it and at a price they can afford. Couple that with the best products on the market, a willingness to go the extra mile and outstanding customer service and you have a winning formula.
The Business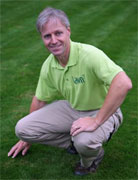 Lawn3 provides all-year-round lawn care treatments and services to the domestic market, including:
Moss and weed treatments
Lawn fertilizing
Seeding
Pest control
Aeration (tinning or plugging)
Scarification
We use professional products that are unavailable to the consumer directly, and which are used by professional Greenkeepers at venues such as Wimbledon and Wentworth.
The application of these products at key times of the year, together with other services such as scarification and aeration is designed to give our clients lush green lawns, free from weeds, moss and pests.
The business model is based on high client retention, repeat business throughout the whole year (including the winter period) and provides a gross profit margin of over 75% (guide price to customer less cost of materials). Customer satisfaction and loyalty are very important to us and as such we offer a unique 100% money back guarantee if the customer is not completely satisfied. As a result we have a very low client attrition rate and some of our franchisees boast client referrals account for 30% of new business.
Training and Support
Lawn3 training is so comprehensive and our commitment to ongoing business support and individual development such a part of the Lawn3 culture that we were chosen by the Institute of Groundsmanship to partner with them to develop an IOG NVQ Level II Greenkeeper course specifically designed for the domestic Lawncare industry. The initial Lawn3 Training Programme covers the following: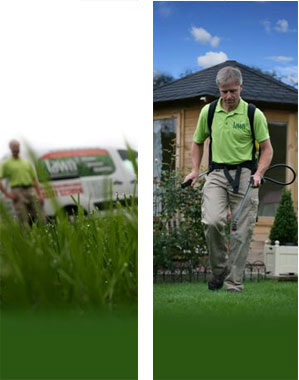 Technical Syllabus
The Lawn3 Treatment Programme
Health & Safety
Use of herbicides, fungicides and insecticides
Moss killers
Weed & moss identification & treatment
Lawn maintenance
Seeding & lawn repair
Scarification
Aeration
Knapsack spraying
Seeding
Pest Control
Lawn3 Operations & Customer Care Software
Business Syllabus
Business basics - running a business for the first time
Business operations
Sales & Marketing
Customer Service
Staff recruitment & training
Accounting
Business & accounting
The Lawn3 franchise package: what's included
An exclusive territory of 100,000 households
Stationery pack (business cards, letterheads)
Vehicle livery & signwriting
Training course at a Horticultural College (leading to NPTC or City & Guilds qualification)
Professional petrol-driven aerator
Franchise licence fee
Knapsack chemical sprayer
Blower
Measuring wheel
Sufficient fertiliser for the first 100 clients
Rake
Branded uniform (trousers, t-shirts, fleece, etc.)

Lawn3 bespoke scheduling & invoice software
Deposit on a Citroen Berlingo van (or equivalent)
Lawn3 Training Programme
Professional petrol-driven scarifier
Franchise Manual
Granular fertiliser spreader
Chemical transport box
Sweeper
Leather folder
Water butts
Sufficient herbicide for the first 100 clients
Personal Protective Equipment (PPE)
The unique Lawn3 business launch package including 50,000 full-colour leaflets delivered into your territory by Royal Mail and 25,000 leaflets for personal delivery
Continual ongoing support
Professional sales training
The Next Step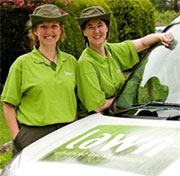 As well as unrivalled training, technical expertise and business support you will join a culture of success and opportunity with a company dedicated to becoming the premier lawn treatment company in the UK.
Whatever your background and personal ambition, a Lawn3 franchise can be tailored to your own personal circumstances and will give you the opportunity to benefit from an increasingly buoyant UK services sector.
The lawn treatment industry is underdeveloped in the UK and has a massive potential for growth — a Lawn3 franchise may well be the best opportunity you'll ever have to realise your dreams of running your own successful business.
GREAT! WHAT'S MY NEXT STEP?
Find out more about Lawn3 by submitting the form below.