Aeration
Aeration is the process of perforating the soil with small holes up to 5 inches deep. This allows water, air and fertiliser to get closer to the grass roots and also enables the roots to grow more deeply, producing a stronger lawn. Roots drop down approximately one inch a night after aerating through the new holes.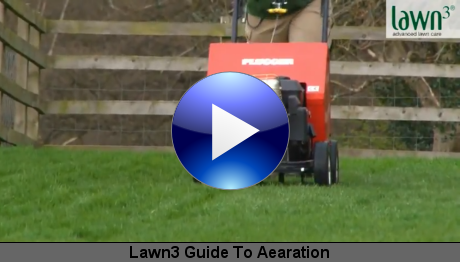 Heavily compacted soil may require hollow-tine aeration, however this can damage the root structure if done on the wrong lawn or too frequently.
Your Lawn3 advisor can recommend the best method for your lawn.
Poor drainage, failure to turn green after fertilising and the presence of many worn areas may indicate the need to aerate
Unlike other lawn care companies we offer solid-tine aeration which does not damage the lawn and can be performed several times in a season. We believe aeration is the best thing you can do for your lawn next to mowing correctly, and we recommend at least two aerations a year to get the greatest benefit from this fantastic treatment.
Talk to your local office for advice on the best way to aerate your lawn.
Where to find us
and Book Your

Free

Lawn assessment